Ok doesn't seem logical to make a post promoting other people's artwork but when I've TWICE bought a product based on how the package looks alone, then I gotta talk about it. At least to show other people some cool artwork.
Moxie Sozo
is a Design Company from Bolder Colorado. 1st product I bought of theirs is Late July, which was a rather tasty brand of chips.
Finding high quality images of the products is rather hard, but look at the color combinations, the font, and the vector graphics which have the right level of gradients because if you go too far with gradients, then it looks cheesy (cheesy here meaning not good). There is a very wholesome appeal to this packaging that does lure you into the product. The sweet potato one is the one I've had and it's as good as it looks.
Late July Website
.
Moxie's Late July Portfolio
So Today I picked up a box of
Snackle Mouth Granola Nut Clusters.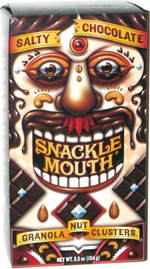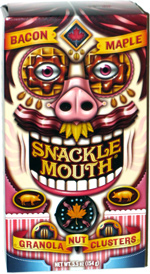 The patterns, the gradients, the font details, and the deep rich colors: each box has a different design to show off their ingredients, like the men on the boxes are kings or ring masters of some sort of fruit and nut kingdom. Their circus/ cracker jack like designs have so much detail and yet they're very nightmareish. Most certainly the Bacon and Maple box, which has a man with a pig nose. They stand out like a sore thumb say at a Safeway or Walmart, but one of the local markets in my town had them and I was drawn to them like a magnet.
Moxie's Portfolio for Snackle Mouth
.
While I've never tried the fallowing products I can only say that these are worth a try just based on the wonderful graphic work alone. How ever I'm not very impressed with some of the more, commercial work featured in their portfolio, there are obviously different teams that tackle certain products. However, there is someone with great skill at that company, and I could just stare at these packages for hours looking at how they did it all. Great work!